TL988
Real-time Quantitative PCR Detection System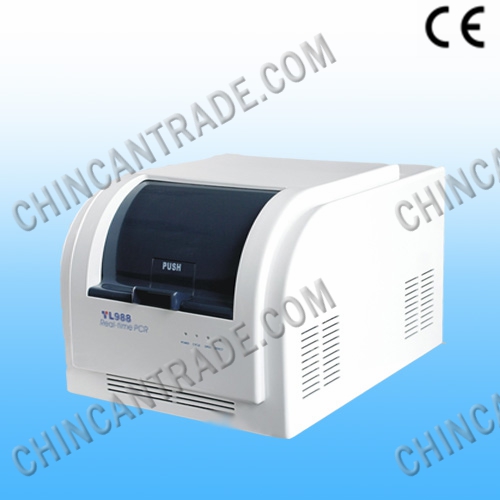 QPCR(Polymerase Chain Reaction) gives you a choice of quantitative methods for gene expression.The TL988 Real-time PCR is very useful and important for life science research and curative evaluation, and it is innovative and pioneering products in Lab. for the prevention, diagnosis, evaluation and monitoring of diseases.
Real-time Quantitative PCR Detection System
Specifications
Profiles

1-9

Repetitions

1-99

Steps

1-9

Set times

1-9999sec

Profile linkage

Yes

Reagents

FAM,SYBR GREEN I,JOE,HEX,VIC

(various fluorescence PCR reagents , such as TaqMan probe, etc)

Sample capacity

48 × 0.2ml or 36 × 0.2ml

Sample handing

Thick-walled 0.2ml PCR tubes

Sample volume

20-100μl

Wavelength of exciting fluorescence

495nm

,

535nm

Wavelength of fluorescence detection

525nm

,

555nm

Monochromator device

Filter,made in USA

Photo detector

PMT(Photomultipier tube), made in Japan

Heating/cooling device

TE Peltier(Thermoelectric Peltier Effect module),made in Japan

Quantitative accuracy

R≥0.990, CV≤3%

Heating rate

3

℃

/sec

Cooling rate

2

℃

/sec

Thermal range

4.0

℃

-99.0

℃

Thermal accuracy

±0.5

℃

Thermal uniformity

±0.5

℃

System interfaces

RS-232C serial interface, bi-directional

Computer operating system

Windows 2000/XP

Power supply

AC220V/110V, 50Hz/60Hz

Power

<800W

Operating environment

Ambient Temperature 5

℃

-40

℃

Relative Humidity 30%-70%

Weight

26kg

Dimensions(W×D× H)

500mm × 400mm × 350 mm
Heating & cooling unit
Applying the advantages of thermoelectric (TE, Peltier Effect) module makes temperature change rapidly and uniform. Hot-lid design permits oil-free operation.
Optical unit
An array of LED collimates to corresponding wells.High-light and long-lived LED excitation light source does not need maintenance or preheating.
PMT fluorescence detection offers high sensitivity, broad dynamic range and low crosstalk.
An array of detecting coaxial optical fibers focus on each well's bottom ensure minimal light loss.
Operation system and Application software
Application software interface is friendly windows style, Monitoring real-time amplification plots and data analysis during a PCR run.
Supply software package of medical case and database management and plot display.
Quantification
After quantitative analysis for the standard sample, the instrument will get a standard curve of Ct value related to copy number.
Comparing the Ct value of unknown sample with standard curve, the instrument can calculate the original copy number of unknown sample by quantitative analysis. TL988 has a wide linear detecting range, which can detect 101-1010 DNA copies/ml.